Instant Wet Grinding Machine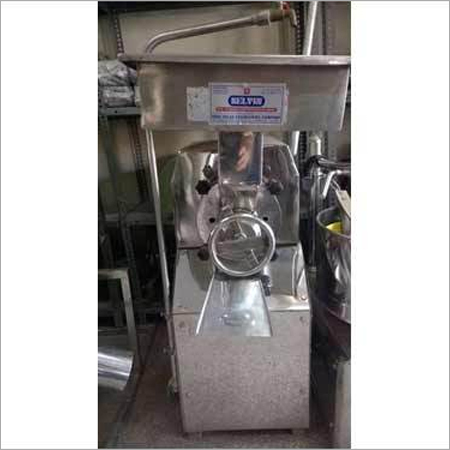 Instant Wet Grinding Machine
Price And Quantity
Product Specifications
Commercial

Stainless Steel
Product Description
Being quality conscious organization, we are instrumental in manufacturing and trading of Wet Grinding Machine. Under the supervision of professional technicians, these machines are produced utilizing quality parts and crude materials. To granulate sugar, red & dry chillies, glues, garam masala, coriander and chutney, our created Wet Grinding Machine is very utilized. Because of their vigorous development, unmatched execution and high elasticity, these processors are high sought after over the business. We rightfully check these processors on quality standards to offer immaculate scope of items to our customers.
Further points of interest:
Grinder Machine:
Grinders are intended to meet necessities of a little residential plant and simple to work. Over 35 years of involvement in the assembling of high class, smooth running processors and the utilization of unrivaled materials joined with high review workmanship are the reasons why Grinders are favored.
Exceptional Features
Fitted with High quality Ball Bearing For Smooth Running (Regular reasing suggested)
Fitted with Non-Magnetic Stainless Steel Face Bolts
procurement for water transfer for long life o direction
Excellent Grade Steel Casting Grinding Plates for fine grinding
Twofold Protection for Bearing by Oil Seal
Fitted with separable Rod System for the accommodation of client.
Technical Specification
Size

Grinding

Plates Size

Pulley

Size

Motor

Pulley

Output Per Hour (Approx.)

H.P.

Dry

Wet

Mini OM

10 cm

25 cm

5.1/2 cm

15 kg

10 kg

1/2

Mini NM

10 cm

25 cm

8.1/2 cm

15 kg

10 kg

1/2

Junior OM

13 cm

25 cm

8.1/2 cm

35 kg

30 kg

1

Junior NM

13 cm

25 cm

8.1/2 cm

35 kg

30 kg

1

Jumbo Junior OM

15 cm

25 cm

8.1/2 cm

40 kg

35 kg

1

Jumbo Junior NM

15 cm

25 cm

8.1/2 cm

40 kg

35 kg

1

Jumbo Junior DLX

15 cm

25 cm

8.1/2 cm

40 kg

35 kg

1

Chatni

18 cm

15.1/2 cm

8.1/2 cm

-

60 kg.

1.1/2

Senior OM

18 cm

25 cm

8.1/2 cm

45 kg

40 kg

1.1/2

Senior DLX

18 cm

25 cm

8.1/2 cm

45 kg

40 kg

1.1/2

Senior NM

18 cm

25 cm,

8 cm

45 kg.

40 kg.

1.1/2

Supreme

19.1/2 cm

25 cm

8 cm

55 kg

45 kg

2 HP

Supreme DLX

19.1/2 cm

25 cm

8 cm

55 kg

45 kg

2 HP

Chatni Super

19.1/2 cm

18 cm

8 cm

-

80 kg

3 HP

Super upreme

23.1/2 cm

25 cm

8 cm

70 kg

60 kg

3 HP